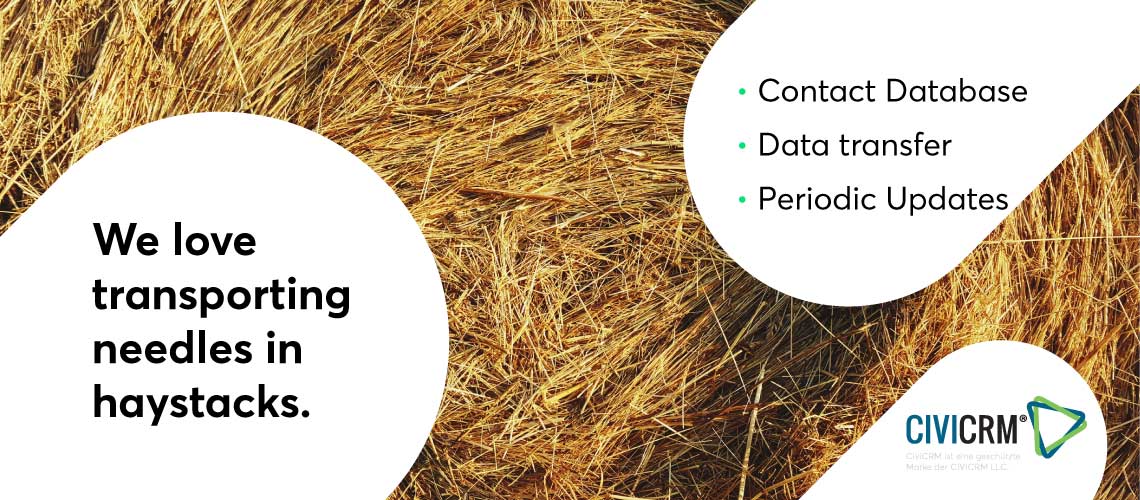 CiviCRM is easy on the nerves.
With the contact database from CiviCRM you create order in your contacts - and keep it.
Work GDPR-compliant and with stable and reliable technology.
Assign properties and functions to contacts.
---
Link, group and tag your data.
---
Record organizations, people and households *
---
Find what and who you are looking for
quickly and safely.
---
Keep business-critical data when your employees change.
---
No license fees - you only pay for implementation and hosting.
---
Easy to use: After the initial training, you and your employees can get started right away.
---
Personal and individual support.
---
* Budget records and case management are particularly suitable for social organizations, initiatives and projects,
e. g. for homeless and refugee aid or for assisted housing projects. But also to organize your work on site in crisis regions.
We love to transport pins.
The civilists have their own transfer database.
Everything you bring can be found in CiviCRM. That's a promise.
Your individual data model for CiviCRM maps all contacts available in your company.
We help with plausibility tests, checking for duplicates, merging or enriching where it makes sense .
Each piece of information is also grouped and given properties and tags.
Regular update of your inventory data
One choice can change all contacts. With an update in CiviCRM, you can simply redistribute the seats.
We support you when contacts change and, if necessary, take care of purchased distributors.
This enables you to reach your target group in no time at all without having to laboriously find addresses and contact persons individually.
Procuring distributors
Evaluating data quality
Feeding new data sets
Updating existing data sets
Checking for duplicates
Traceability of the data's origin
GDPR-compliant handling
Find out how to use CiviCRM to organize events, send targeted mailings and manage campaigns:
Contact us